Sachet feeding
---
The small bag feeding machine, also known as the standard bag unpacking machine, manual unpacking machine, or bag pouring station, includes a filtration and dust removal system in its body, with a compact structure. This equipment is a combination consisting of a manual feeding bin (upper and lower pneumatic doors), a built-in dust collector, a feeding cone, a fan, and an electrical system. Dust free operation and operation can be achieved on-site.
The materials poured into the silo are pre treated with equipment such as screens, breakers, and flow aids as needed, and then transported to downstream devices through screw conveyors, pipe chain conveyors, or pneumatic negative or positive pressure conveying systems.
Principle description
The unpacked material enters the cone inside the unpacking machine, and the overflowing dust is sucked by the negative pressure airflow during the overflow process, which is then blocked by the filter element. Clean gas passes through the inside of the filter element and is then discharged by the fan; During the operation of the system, due to the adsorption of materials by the filter element, the filtration resistance increases. Therefore, it is necessary to use a high flow pulse injection pressure to regularly spray the filter element to reduce or remove the materials adsorbed on the surface, so as to maintain the operating resistance of the fan within the allowable range.
Main material: stainless steel (304, 316L), carbon steel optional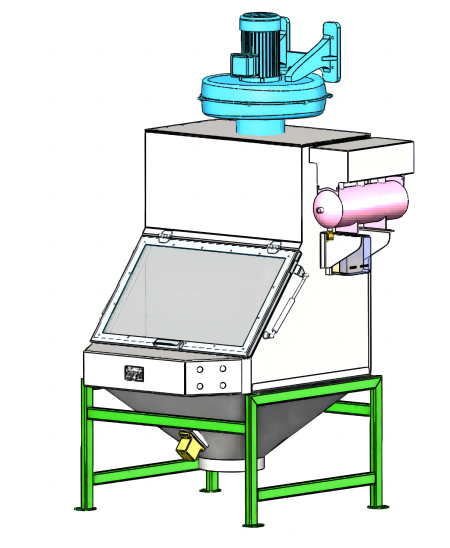 Product features
The equipment configuration is flexible and can be customized according to on-site requirements.
Customized dust collectors can filter up to 20000 mesh of ultrafine powder.
The overall maintenance of the equipment is simple and convenient, and the filter element can be customized according to the characteristics of the material.
Can design feeding stations with specifications of 25-50k9.
When there are multiple specifications of packaging bags, it can be designed as a dual-use feeding station for large and small bags with specifications of 25, 50, and 1000k9.
It can be combined with a cutting cone or installed directly on the end cover of the user's silo without a cone.
The sealing doors at the feeding ports of the small and large bags can be flexibly switched, always opening only one place to ensure the maximum dust removal effect.